Empowering the Frontline: Simplifying Workflows for Field Workers with WizyVision

At WizyVision, we understand the challenges faced by frontline workers when it comes to capturing and processing data. Traditional solutions often overlook the unique needs of field workers, resulting in cumbersome manual entry processes and complex workflows. That's why we've built WizyVision, a platform specifically designed to empower frontline workers and streamline their workflows through intuitive image-driven efficiency.
Accelerating Frontline Work with Images
WizyVision is all about harnessing the power of images to accelerate frontline work. We recognize that frontline workers are often more comfortable with a camera than with complex data entry forms. With WizyVision, we enable frontline workers to intuitively capture information using just their mobile devices and the power of artificial intelligence (AI).
Unlocking the Power of WizyVision
WizyVision is a comprehensive platform that offers a range of powerful tools to optimize your operations: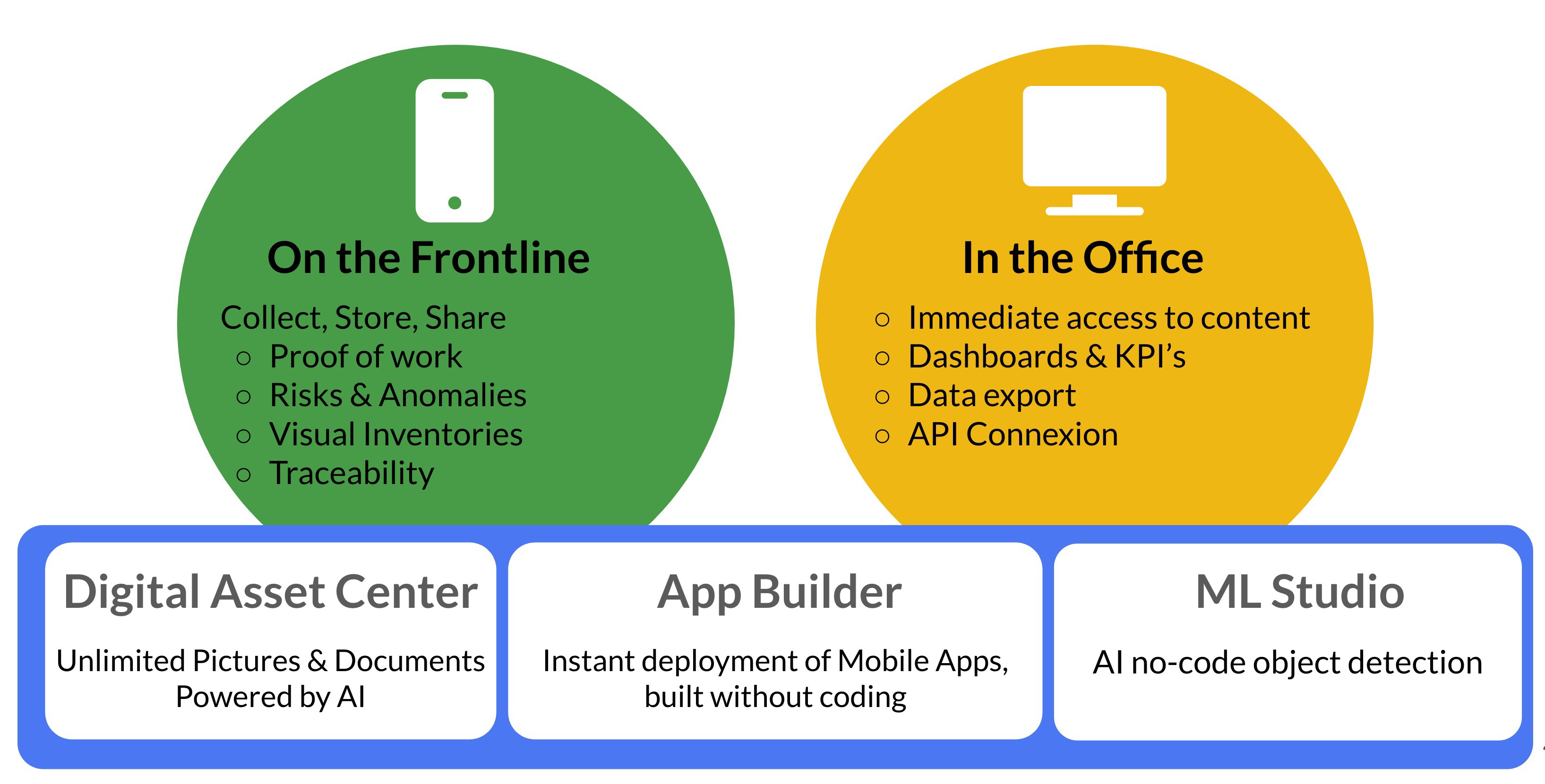 App Builder: Our powerful App Builder tool allows you to create custom applications tailored to your specific needs. With a user-friendly interface, you can easily design and deploy mobile applications without any coding knowledge. Whether you need to digitize inspections, collect field data, or streamline processes, App Builder puts the power of customization in your hands.



Digital Asset Center (DAC): The DAC is your centralized hub for storing, organizing, and visualizing all your media assets. From photos and documents to videos and more, the DAC provides a secure and scalable solution for managing your digital assets. Easily search, tag, and retrieve files, and gain valuable insights from the visual data captured in the field.



ML Studio: ML Studio is where the magic of artificial intelligence happens. With ML Studio, you can train custom machine learning models to perform object detection and recognition tasks specific to your business needs. Automate the process of adding tags to images, enhance your data analysis capabilities, and unlock valuable insights from your visual content.



Super App for the frontline: The WizyVision mobile app is designed for field workers on the frontline. It empowers them to capture images, record data, and access applications seamlessly. The mobile app provides an intuitive and user-friendly interface that enables field workers to effortlessly document their work, ensuring accurate and timely data capture.



Web App for the back office: The WizyVision web app is your command center in the office. Accessible from any web browser, it allows office workers to view and analyze the data captured in the field. From managing applications and workflows to generating reports and insights, the web app provides a comprehensive view of your operations and enables collaboration across teams.
Value and Benefits for Field Operations
WizyVision brings significant value and benefits to organizations that rely on field operations. By empowering frontline workers with an image-centric approach, WizyVision revolutionizes the way data is captured, processed, and utilized. Here are some key advantages for organizations with field operations:
Streamlined Workflows: WizyVision simplifies workflows for field workers by leveraging the power of images. Instead of cumbersome manual entry, workers can intuitively capture information using their camera. This eliminates time-consuming paperwork and reduces the chance of errors, leading to more efficient operations.

Reduced Manual Entry: With WizyVision's AI capabilities, manual data entry is greatly reduced. By analyzing images through OCR (Optical Character Recognition) and object detection, important information can be extracted automatically. This saves time, improves accuracy, and frees up field workers to focus on their core tasks.

Improved Data Accuracy: By reducing reliance on manual entry, WizyVision enhances data accuracy in field operations. The AI-driven image analysis ensures that captured data is more reliable and consistent, minimizing errors and discrepancies. This results in higher data integrity and better decision-making based on accurate information.

Real-time Insights: WizyVision enables real-time insights from the field. As field workers capture images and input data, it is instantly available for analysis and monitoring through the web interface. This provides managers and supervisors with timely visibility into operations, allowing for faster response, proactive decision-making, and improved overall efficiency.

Enhanced Compliance: WizyVision helps organizations maintain compliance with regulations and standards. By automating data capture and enforcing standardized processes, organizations can ensure consistency and adherence to compliance requirements. This reduces risks, facilitates audits, and enhances overall operational compliance.

Optimized Resource Allocation: With accurate and real-time data from the field, organizations can optimize resource allocation. By analyzing trends, patterns, and performance metrics, managers can make data-driven decisions to allocate resources effectively, optimize schedules, and maximize productivity.
By embracing WizyVision's image-centric approach, organizations with field operations can unlock significant value and transform their operations. With streamlined workflows, reduced manual entry, improved data accuracy, real-time insights, enhanced compliance, and optimized resource allocation, WizyVision empowers organizations to thrive in a fast-paced and competitive environment.
Don't hesitate to reach out to our support team at support@wizyvision.com if you have any questions or need further assistance in exploring the benefits of WizyVision for your organization's field operations.