When you open WizyVision in your browser, you will enter the Homepage. Here is what it looks like once you have uploaded and organised some media.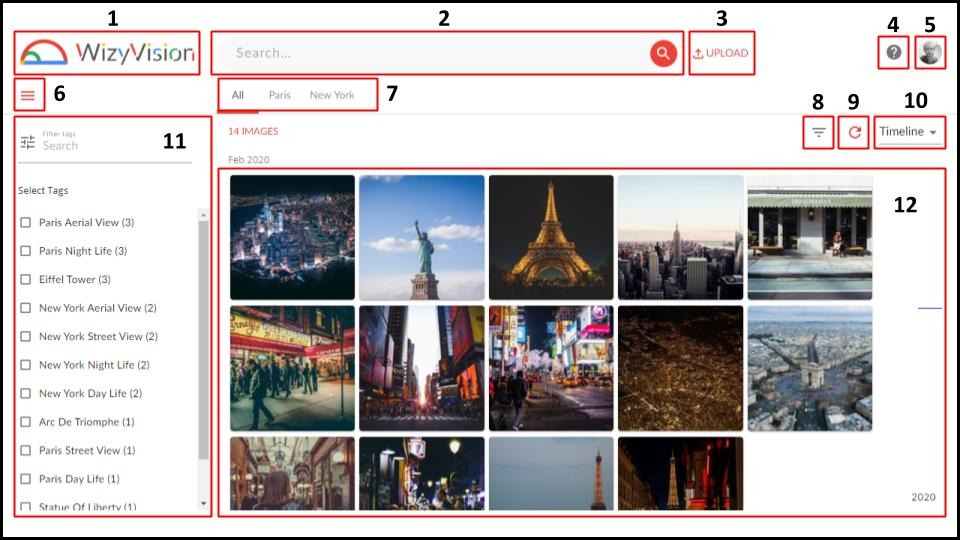 WizyVision logo - clicking it will allow you to return to the homepage

Search bar - locate your media using the image recognition system. You may search for automatic tags that are visible to you in the media page, but also logos and text, among other things.

Upload window - upload files either from your computer or from Google Drive, and add tags to them

Help Center - clicking the icon will open the Help Center dedicated for WizyVision

Profile Avatar - clicking it will open a drop down menu that will allow you to

Tag menu - show or hide the tag menu on the left of the screen

Domain tab - view the media that you've categorized in a particular domain. Click on "All" to view all of your media. See also: organise all of you tags and categories

Filter menu - filter quality photos and media file type

Refresh - sync the data you have on dashboard

View menu - choose between a whole timeline view, map view of your geolocated photos or display only the latest uploaded media

Tags sidebar - lists all the tags identified from your data set. Ticking a tag will display the media with the selected tags assigned. You may also use the search feature to search for your tags

Configure sidebar

- will appear when a specific domain is opened. This allows a quick modification on the elements of the sidebar if needed (i.e. add category, add tags)

Media dock - clicking a file will open the media page. You may also select a file by ticking the check icon on the upper left corners. After selection, media may have tags added to them, or be deleted.