We are thrilled to announce the latest major release of WizyVision, featuring an array of powerful enhancements and new functionalities that will elevate your data capture and management experience. Our team has been hard at work to deliver exciting features that make WizyVision an even more versatile and efficient platform for your business needs. Let's dive into the notable items in this release:
1. Mandatory Attachment - Empowering Data Accuracy
Enhance data accuracy and streamline your data collection process with the new 'Mandatory Attachment' feature. Admins now have full control over data integrity by making attachments mandatory during inspections. Whether it's crucial evidence, visual documentation, or supporting files, you can ensure that your team captures the necessary attachments for every case.
With this powerful feature, you can configure attachments to be always required or conditionally based on the field's values, providing you with the flexibility to tailor data capture to your specific needs. Check out our article on 'Mandatory Attachment' to learn how this feature enhances the reliability of your captured information and elevates your data collection capabilities.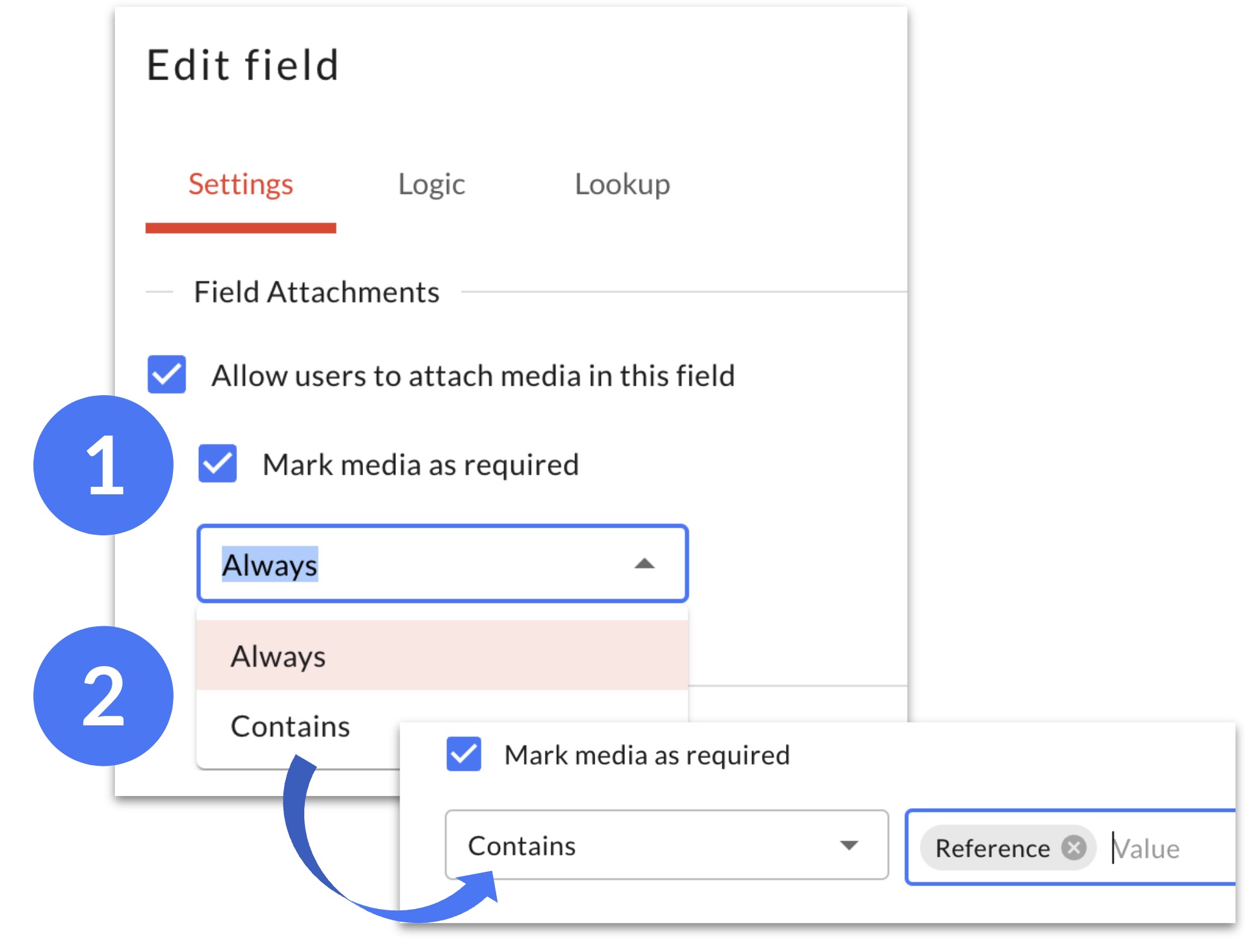 2. Lookup Behavior - Automate Data Entry with Ease
Discover the power of automated data entry with our new "Lookup Behavior" feature. Now, you can seamlessly populate fields based on the value of another specific field. Imagine a product serial field with a barcode scanner that triggers a webhook for each scanned barcode ID. The webhook automatically fetches and fills in the corresponding product name and price, streamlining your data entry process like never before.
In our dedicated article on "How to use lookup behavior to automate data entry?" explore how this feature unlocks the true potential of automation and eliminates manual efforts in your workflows. Experience the efficiency and convenience of automated data population with "Lookup Behavior.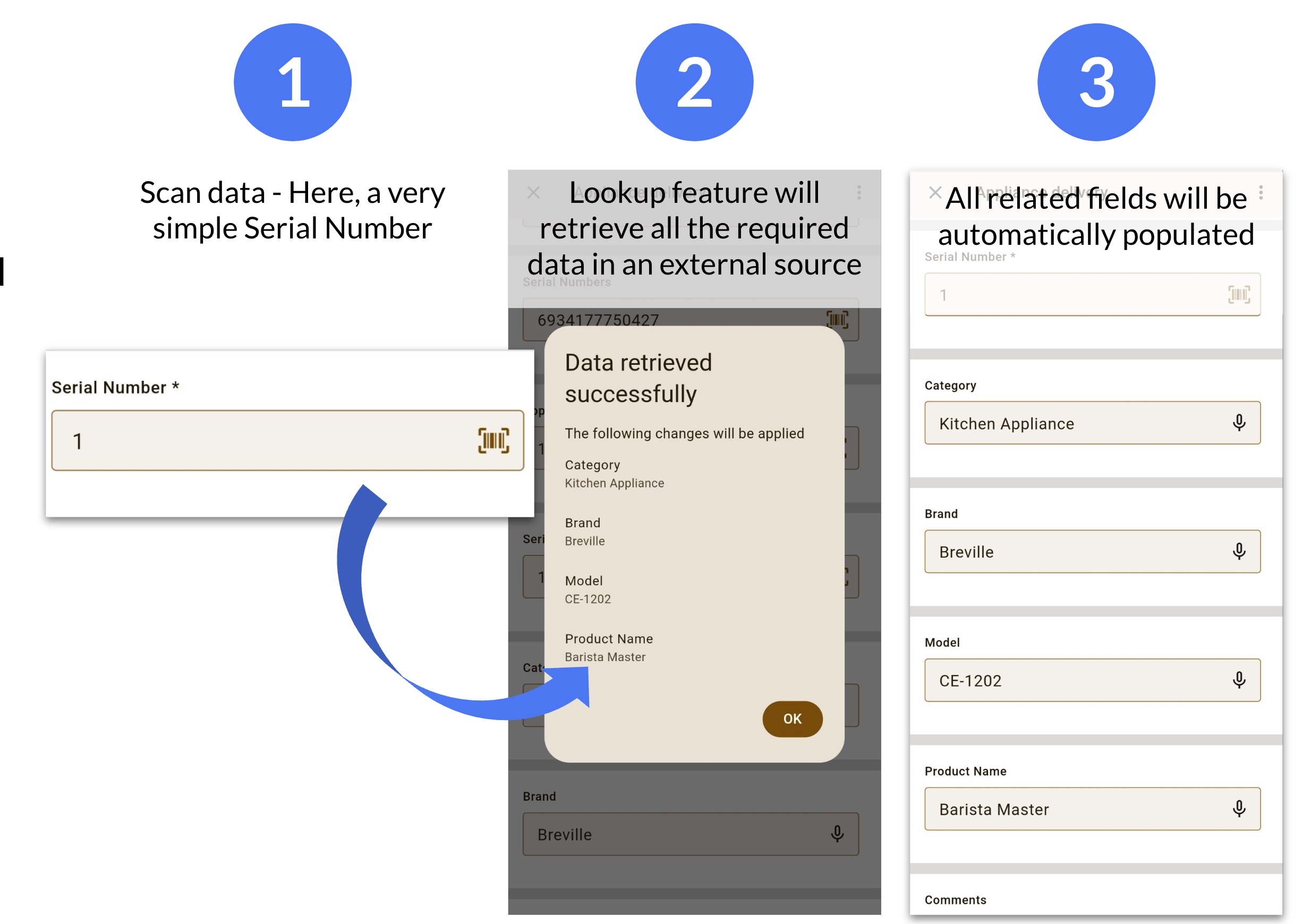 3. Improved Field Settings UI
We understand that managing field settings efficiently is essential as your application grows. That's why we have redesigned the Field Settings UI to accommodate the expanding range of features and properties for each field. Depending on the field type, you will find different sets of tabs, such as General, Scanners, Logic, and Lookup, ensuring a seamless and intuitive experience when customizing your app's fields.
4. Various Performance Improvements
In this release, we have invested in extensive performance optimizations to enhance the overall platform's speed, reliability, and responsiveness. You can expect smoother navigation, faster data processing, and an improved overall user experience.
We are excited about this milestone release and believe these new features will empower you to streamline your workflows and capture data with unparalleled efficiency. As always, we remain dedicated to continuously refining and expanding the capabilities of WizyVision, guided by your feedback and needs.
Thank you for choosing WizyVision as your no-code app builder and digital data management solution. We are committed to your success and are eager to see the remarkable ways you'll leverage these new functionalities.
Upgrade now to Version 3.0.0 (Mobile) and 2.0.0 (Web) to unlock the full potential of WizyVision!
Happy capturing and automating!
The WizyVision Team