Data collection, while crucial, doesn't have to be tedious or cumbersome. WizyVision introduces a revolutionary feature, WizyVision Flow (previously known as Visual Journey), to simplify this task, ensuring accuracy and efficiency. Let's explore how to set it up and reap its benefits.
What is WizyVision Flow?
WizyVision Flow is a visual roadmap designed to guide users through their data collection process. It presents a series of steps or fields that users navigate, ensuring every crucial piece of data is captured with ease.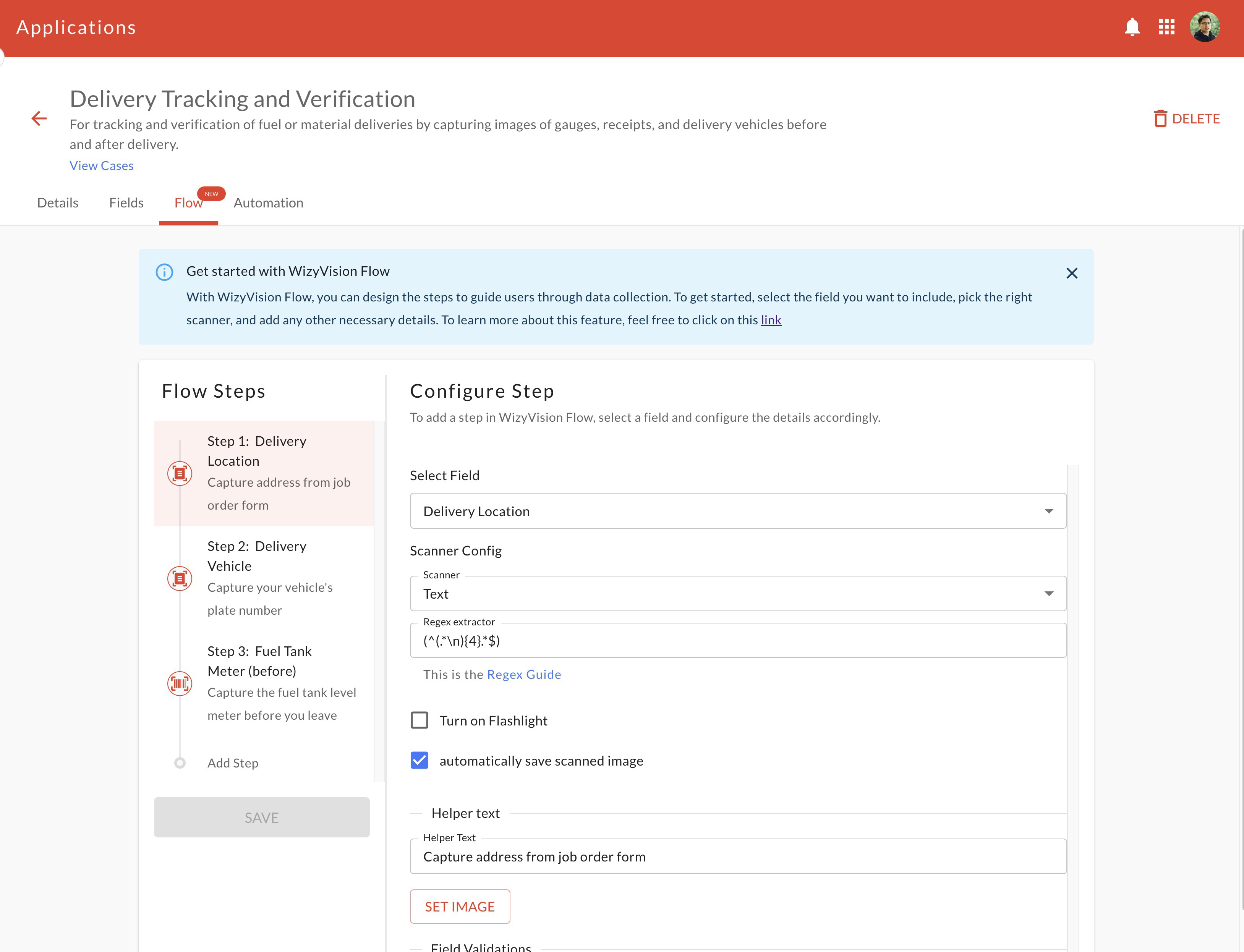 Setting Up WizyVision Flow
1. Access the Application Admin Page: Navigate to the Application Admin page of your WizyVision application.
2. Click on the "WizyVision Flow" Tab: Unlike before, where the flow configuration was spread across field settings, we now offer a dedicated tab for a more streamlined setup.
3. Overview of the Flow: Here, you'll see all the steps involved in your data collection process. This consolidated view gives admins clarity and control over the process.
4. Add Fields to the Flow: With the user-centric design, you can easily drag and drop fields into the flow. Define their order, customize scanner settings, helper texts, images, and more without having to delve into individual field settings.
5. Save Your Configuration: Once satisfied, save your configurations and deploy them. Users will be guided by this flow the next time they access the application.
Fields Supported in WizyVision Flow
In the WizyVision Flow, you can include specific fields to be displayed at each step. The following field types can be added to your Visual Journey:
Toggle
Checkbox
Number
Dropdown
Text
Paragraph
Signature
By including these fields in your Flow, you can ensure that users capture the relevant data in a structured and guided manner.
Capture State and Preview State
Each step in the Flow has two states: capture state and preview state.
In the capture state, users input the required information or capture relevant data using WizyVision's scanning and data capture capabilities. It's important to note that when a field has a scanner, admins can enhance the user experience by adding a helper text and a helper image. These helpers provide guidance and instructions to users during the scanning/capture process, ensuring a smoother experience and accurate data capture.
The preview state allows users to review what has been scanned or captured and make any necessary adjustments before proceeding to the next step. This feature provides an opportunity to validate the data and ensure its accuracy.
Benefits of WizyVision Flow
1. Guided Data Collection: By providing a visual representation of the steps, users can systematically navigate through their tasks without missing any crucial data points.
2. Flexible Customization: Adjust the flow to match the precise needs of your application, ensuring that it aligns seamlessly with your objectives.
3. Efficient & Time-saving: With everything laid out clearly, users can capture data quickly, eliminating guesswork and errors.
4. Enhanced Collaboration: With features like helper texts and images, team members can better understand what's expected at each step, fostering better collaboration and data accuracy.
In Conclusion
WizyVision Flow reaffirms our commitment to providing tools that make data collection intuitive and efficient. By simplifying the setup process and offering a comprehensive view of the entire data capture journey, we hope to further empower our users to collect data accurately and efficiently.
Dive into the enhanced world of WizyVision Flow today and experience a redefined data capture journey!